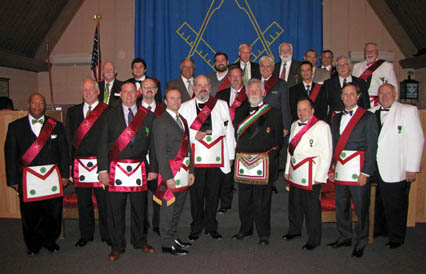 Above: The cousins of St. Bridget Council on 26 October 2015.
Knightly News
Read the latest Knightly News, the official newsletter of the Grand Council of Knight Masons of the United States of America.
Mailing address
All correspondence must be transmitted through the Scribe:
SAINT BRIDGET COUNCIL NO 23
C/O TERRY W MCCAMMON MEPGC
1715 HIGHLAND AVE
WILMETTE IL 60091-2411
Email: Terry W. McCammon, MEPGC, Scribe

Quarterly dinner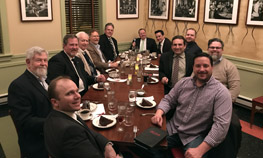 Above: Some of the cousins enjoying fellowship at Club Lucky.
Next meeting
Thursday evening, 29 June, 7:00 (gather), 7:30 (dine): Dinner, toasts, meeting, and election of candidate nominees. Hackney's on Lake, located at 1514 East Lake Avenue, in Glenview. Cousins only.
Fifty bucks gets you an outstanding dinner and fellowship. Reservations are required no later than Tuesday, 20 June.
Dress is business suit; cousins are encouraged to wear their jewel, and maybe a green or red necktie would be nice.
Get your nominations for this fall's candidates in to the Scribe in order that we may vote on them at our June meeting and confer the degrees upon them in October.
TERRY W MCCAMMON MEPGC
1715 HIGHLAND AVE
WILMETTE IL 60091-2411