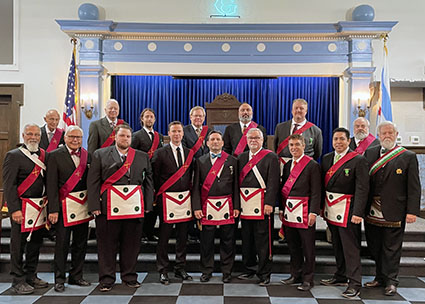 Above: The cousins of St. Bridget Council on 2 October 2021,
following the conferral of the degrees.
Mailing address
All correspondence must be transmitted through the Scribe:
SAINT BRIDGET COUNCIL NO 23
C/O TERRY W MCCAMMON MEPGC
1715 HIGHLAND AVE
WILMETTE IL 60091-2411
Upcoming events
Wednesday, 12 April, at 7:00 p.m.: Quarterly tionσl (dinner), at The Green Post, 4749 North Rockwell Street, in Chicago. This is the location of the former Red Lion, of fond memory. We will order from the menu, soft drinks and coffee are included; other beverage choices at the Cousin's own expense. The price is $30.00 per cousin. Please bring exact change. Reservations to our Scribe are strictly required. Regrets are not necessary, although Terry does enjoy hearing from the members. Cousins only.
18 June: Centenary of the order. On this date in 1923, the "mother" Grand Council was constituted at Freemasons Hall, Dublin, Ireland, and took custody of the degrees. Saint Bridget Council will be represented at the centenary celebrations. Cousins only.
Thursday, 22 June, at 7:00 p.m.: annual donnybrook, at Buffalo Creek Brewing, 360 Historical Lane, Long Grove. Download the nomination form and email it to the Scribe. We'll elect candidates at this meeting to receive the degrees in August. Details to be announced. Cousins only.
Saturday, 6 August, at 2:00 p.m.: annual conferral of the degrees of Knight Masonry, at Jefferson Park Masonic Temple, 5418 West Gale Street, Chicago. Dinner will follow at a restaurant to be announced. Cousins only.
Wednesday, 6 December, at 7:00 p.m.: annual meeting, at a venue to be announced. Cousins only.
––––––––––––––––––––––
Knightly News
Read the latest Knightly News, the official newsletter of the Grand Council of Knight Masons of the United States of America.