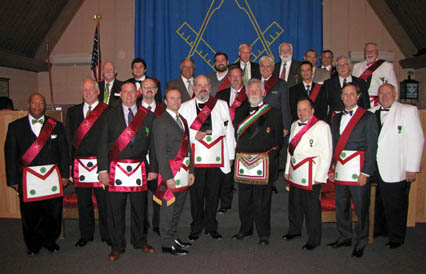 Above: The cousins of St. Bridget Council on 26 October 2015.
Knightly News
Read the latest Knightly News, the official newsletter of the Grand Council of Knight Masons of the United States of America.
Mailing address
All correspondence must be transmitted through the Scribe:
SAINT BRIDGET COUNCIL NO 23
C/O TERRY W MCCAMMON MEPGC
1715 HIGHLAND AVE
WILMETTE IL 60091-2411
Email: Terry W. McCammon, MEPGC, Scribe

Next meeting
Friday evening, 21 June, 6:00 (gather), 7:00 (dine), annual donnybrook, at Cousin Mike Marr's own Buffalo Creek Brewing, located at 360 Historical Lane, in Long Grove. Dinner, toasts, meeting, and election of candidates to receive the degrees in September. Cousins only.
Reservations are required. Click here to email the scribe.
Details will be posted when published. All of this as well as an evening of relaxation in the bosom of cousinly regard will be available for $35.00. Reservations are strictly required and must be made on or before June 24. Also, if you make a reservation and do not cancel it by June 27th, you will be responsible for the dinner charge.
Dress is business casual. Let's remember that we are in a public place and in the business home of our Brother and Cousin. Properly dressed gentlemen in good order make a more powerful statement for the Craft than all the billboards and advertisements in the world. Slovenly dress and boorish behaviour have an equally powerful effect.
Get your nominations for next fall's candidates in to the Scribe in order that we may vote on them in June and confer the degrees upon them in September.
The program will consist of the usual toasts as well as a short presentation suitable to the evening.
TERRY W MCCAMMON MEPGC
1715 HIGHLAND AVE
WILMETTE IL 60091-2411