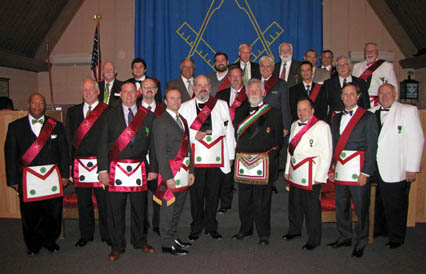 Above: The cousins of St. Bridget Council on 26 October 2015.
Knightly News
Read the latest Knightly News, the official newsletter of the Grand Council of Knight Masons of the United States of America.
Mailing address
All correspondence must be transmitted through the Scribe:
SAINT BRIDGET COUNCIL NO 23
C/O TERRY W MCCAMMON MEPGC
1715 HIGHLAND AVE
WILMETTE IL 60091-2411
Email: Terry W. McCammon, MEPGC, Scribe

Next meeting
Saturday, 14 September, 1:00 (walk-though), 1:00-1:30 (candidate registration), 2:00 (degrees), 5:00 (dinner), annual conferral of the degrees of Knight Masonry. At the Jefferson Park Masonic Temple, located at 5418 West Gale Street, Chicago, Dinner follows at the neighbouring Gale Street Inn. Cousins only.
After the degrees, we will repair to the Gale Street Inn for dinner, where we will order off of the menu for $30.00. Drinks are at the diner's expense. Reservations are strictly required and must be made on or before June 10. Click here to email the scribe. Also, if you make a reservation and do not cancel it by June 27th, you will be responsible for the dinner charge.
Dress is dark suit, white shirt, tie (preferably green, red, or the KM design). We will dine in a public place as Freemasons. Our external presentation should reflect the dignity of the institution. Properly dressed gentlemen in good order make a more powerful statement for the Craft than all the billboards and advertisements in the world. Slovenly dress and boorish behaviour have an equally powerful effect.
TERRY W MCCAMMON MEPGC
1715 HIGHLAND AVE
WILMETTE IL 60091-2411