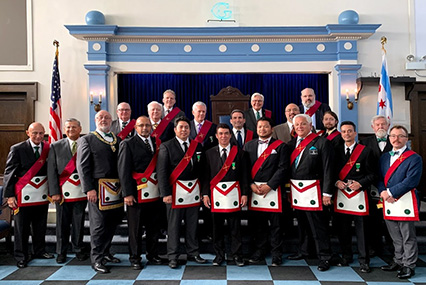 Above: The cousins of St. Bridget Council on 14 September 2019
Mailing address
All correspondence must be transmitted through the Scribe:
SAINT BRIDGET COUNCIL NO 23
C/O TERRY W MCCAMMON MEPGC
1715 HIGHLAND AVE
WILMETTE IL 60091-2411
Next meeting
Thursday, June 24, 2021, at 6:30pm (gathering), 7:00pm (dine) – Quarterly tionól (dinner).
As is our usual summertime tradition, this meeting will be held at our Cousin Mike Marr's brewpub, Buffalo Creek Brewing, located at 360 Historical Lane, in Long Grove, either in the upstairs meeting room or in the tent as medical circumstances dictate. We will have a catered meal. This is the meeting during which new candidates are elected.
First, let us be clear, anyone who is uncomfortable dining indoors or otherwise gathering, should feel very comfortable with not attending. All the various guidelines will be observed including being masked when not eating or drinking, and so forth.
Reservations are strictly required. RSVP to our Scribe at:
TERRY W MCCAMMON MEPGC
1715 HIGHLAND AVE
WILMETTE IL 60091-2411
You do not need to tell Terry if you are not coming.
The principal business of the evening consists of planning for our degrees to be presented on September 11th. We need degree directors and individuals to take the various roles. As always, we will receive suggestions for membership prior to the summer meeting when balloting will be held.
Cousins only.
Knightly News
Read the latest Knightly News, the official newsletter of the Grand Council of Knight Masons of the United States of America.