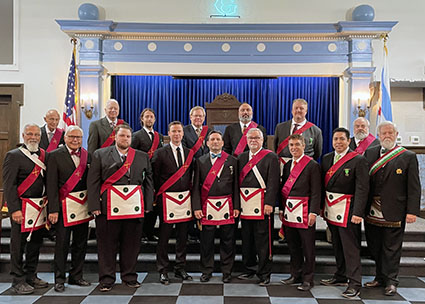 Above: The cousins of St. Bridget Council on 2 October 2021,
following the conferral of the degrees.
Mailing address
All correspondence must be transmitted through the Assistant Scribe:
SAINT BRIDGET COUNCIL NO 23
C/O JACK M RECINTO EPC
4410 N WESTERN AVE UNIT 2
CHICAGO IL 60625-2115
18 June: Centenary of the order. On this date in 1923, the "mother" Grand Council was constituted at Freemasons Hall, Dublin, Ireland, and took custody of the degrees. Saint Bridget Council No. 23 was represented at the centenary celebrations by our scribe and Excellent Past Chief, Terry W. McCammon, in his capacity as a Most Excellent Past Great Chief of the Grand Council of the U.S.A.
Terry's report and debriefing at our summer donnybrook, days later, were well enjoyed by all.
Upcoming events
Wednesday, 6 December, at 7:00 p.m.: annual meeting, election and installation of officers; at a venue to be announced. Cousins only.
Friday, 9 February 2024, at 9:00 a.m. EST: annual meeting of the Grand Council of Knight Masons, U.S.A., at the Hyatt Regency Crystal City, 2799 Richmond Highway, Arlington, Virginia.
––––––––––––––––––––––
Knightly News
Read the latest Knightly News, the official newsletter of the Grand Council of Knight Masons of the United States of America.